This bug/feature is one of the longest in a linux history. Shortly – Compiz and other managers are providing you great desktop effects. On the other hand you can't see any movie without screen tearing. Another pathetic moments in a life of linux users 🙂
First of all – google your problem. I bet there are not dozens of users using manjaro with KDE or at least KDE. Ok, my config =
[

j

@

N53SVmanjaro

~

]

$

uname

-

a

Linux

N53SVmanjaro

3.16.7.3

-

1

-

MANJARO

#1 SMP PREEMPT Fri Dec 19 18:34:00 UTC 2014 x86_64 GNU/Linux

[

j

@

N53SVmanjaro

~

]

$

konsole

-

version

KDE

Development

Platform

:

4.14.3
Now just check you "System Settings" – "Desktop Effects":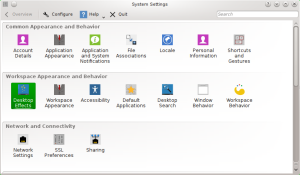 3 tabs after all action can look similar:
As this is a monkey business from my point of view – im simply unchecking all in first two tabs + choosing OpenGL + automatic tearing prevention in 3rd tab.
SMplayer can be set on xv or any other Video driver, playing smoothly…. similar to Windows out-of-box. Yup, this is really lame.
-a-